Remember when your hair was long?
You could leave the key in your motorcycle.
The highway had just one lane in each direction.
The shops were just the shops.
You could swim in the river.
The air you breathed was clean and fresh.
That is Tasmania…now…today…those times still exist.
No hypermarkets, no hyper-highways, no worries.
Tasmania is a hidden sanctuary in an increasingly frantic world.
Empty, winding roads, deserted beaches, pristine forests, rolling farmland.
Clean water, clean air, relaxed population.
Tasmania's towns are simple places, with a human scale…
The simplicity lost in so many places.
Separated from mainland Australia by the 240 km stretch of Bass Strait, Tasmania is a land apart – a place of wild and beautiful landscapes; friendly, welcoming people; a pleasant, temperate climate; wonderful wine and food; a rich history; and a relaxed island lifestyle.
MORE INFORMATION BELOW.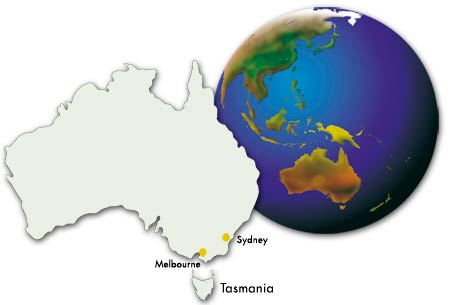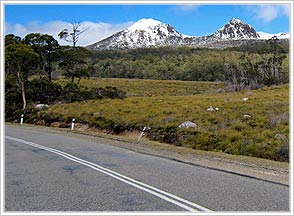 Have a look at Hobart right now:
Click here for Web Cam view of Hobart.
Climate
Our climate is temperate, and generally mild, but we ARE at 42 Degree South, right in the path of the "Roaring Forties'. Winds that sweep around the globe at this latitude. These winds mean we have beautiful clean air, and changeable weather. The maritime climate means we do not get much extreme weather, such as continental USA or Europe.  Winters are cool, but not freezing, summers are warm but rarely hot.  With appropriate clothing, motorcycling is pleasant almost all year round (except maybe July, August).
Mid October to Mid April is Peak season in Tasmania. The weather is generally mild to warm.
Mid April to June is cooler, but generally a really great time for motorbiking with clear air, little rain and empty roads. You can have Tassie almost to yourself.
July and August are for the more heroic motorcyclist.
September until Mid October can be nice but a bit less predictable, the weather can be cold or mild, nice or snowy.
More information on Tasmania's climate click here.
Roads
Other than the main Highway 1, Tasmania's roads are generally winding and challenging.
It is possible to ride a thousand kilometres here, and not see a straight road. This is why we are so popular with motorcyclists from all over the world.
There are some dangers, which should be considered:
Bumpy winding roads require absolute concentration and skill, fatigue can set in quickly, so do not plan very long distances.
Beware of unmarked corners, riders used to an advisory speed limit on every corner should beware in Tasmania not all corners are marked.
On cool days roads can remain slippery all day if in the shadow of trees, you should never assume every corner is dry.
Night riding in Tasmania is dangerous because of the large number of native animals on the roads at night. You will notice the extreme numbers of road kill as proof of this danger.
Distances
Many visitors underestimate distances in Tasmania. It has been said that one Tassie kilometre is equal to two on the mainland.
A trip around Tasmania is like riding your favourite road at home, joined to someone else's favourite road, and then another and another, in a continuous ribbon of great roads.
The roads are fantastic, and very challenging, they are generally smooth, but winding and narrow, you must concentrate all the time as there is no room for error.
A trip around Tasmania in 4 days is technically possible, but involves long days in the saddle, one after another. The distance is around 1800km for a minimum round trip.
We recommend 7 days and around 2000 km as a minimum time to circumnavigate Tassie, we suggest you take your time, and go the long way.If you only have a short time, think about a half circumnavigation, or base yourself in one place and do day rides. Many such trips are possible from a base in Hobart, or the North West.
Getting Here
International visitors may find just the fare to get to Tasmania click on this link Qantas International. For USA visitors, the Aussie AirPass is hard to beat. More information on Tasmania can be found at Tourism Tasmania.