BMW's inexplicably named F700GS is actually an 800cc twin motorcycle.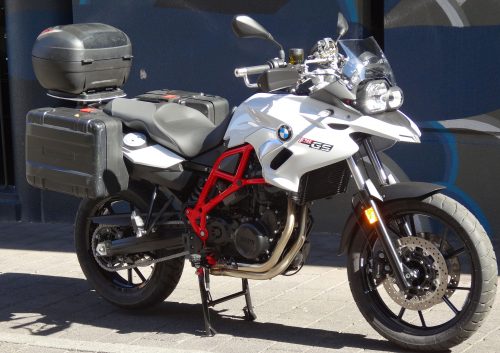 Price per day, includes Garmin Zumo GPS/Panniers?Top Box:
| 1 Day | 2 Days | 3-10 Days | 11+ Days |
| --- | --- | --- | --- |
| $230* ++ | $220 | $205 | $190 |
The medium sized 800cc BMW has a strong reputation as a light weight powerful Adventure motorcycle.
The F700GS is the benchmark for medium size adventure motorcycles, Triumph were obviously looking very closely at the BMW when they developed the Tiger 800.
Now you and a friend can do your own comparison, we have one BMW and two Tigers so you can try these fantastic middleweight high performance tourers.
Our bike is equipped with:
Garmin Zumo 590 GPS
BMW Comfort Seat
Optional LOW seat available.
BMW hard panniers (70l total)
Heated grips
ABS
Traction Control
ACS
Centrestand
Top box (52 lt).
One NEW bike available 2017-2018
Rental Details
Min rental period two days, one day rental is available on a standby basis with 24h notice.
Experience
Riders over 25.

min 1 year powerful bike riding experience

full licence for 2 years.
Kilometres
320km per day free then 70 cents per km. Kilometres are averaged on the duration of your trip.
Gear
Helmet, Jacket, Pants and Gloves included if required.
Our range is limited and size is subject to availability at time.
Clients are encouraged to bring your own gear if possible to guarantee comfort.
Booking Fee
10% at time of booking.
Balance due by credit card at the time of setting out.
Security Bond
We hold a photocopy of your eligible Credit Card.
You agree to pay for all damage up to the chosen Insurance Excess.
The insurance excess is $4500 reducible to $1500 (see options).