Price per day: Includes Garmin GPS/Panniers/Top Box/ Heated Grips::
| 1 Day | 2 Days | 3-10 Days | 11+ Days |
| --- | --- | --- | --- |
| $N/A | $N/A | $205 | $190 |
The Tiger is lively and quick handling but manageable.  It is a very comfortable touring motorcycle.
This bike has been given a Triumph signature three cylinder water-cooled motor, tuned to give its best at lower to mid range revs, making it ideal for touring Tassie.
The Tiger 800 was a new design from the ground up, and has been given one of the most comfortable seats in the business, so it is good for long days exploring Tasmania's outback. We also have an accessory low seat available making this bike more accessible to some.
Our bikes now come equipped with Garmin 590 GPS and panniers are standard.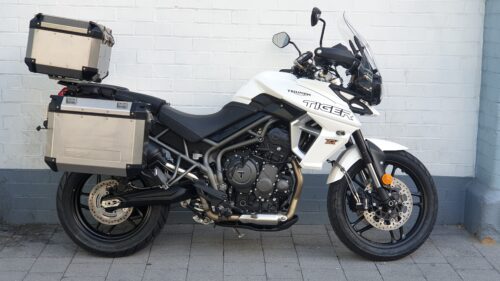 Read what our customer Tom Poland thought about the Tiger
Our bike is equipped with:
TFT Instruments
Cruise Control
ABS
Traction Control
Heated grips
Hand guards
Garmin 590 Zumo 590 GPS included in price.
Triumph hard panniers (40 lt each)
ABS
Top box (52 lt).
LOW seat available.
Two bikes available. Both new for 2020/21
Rental Details
Min rental two days.
Experience
Riders over 25.

min 2 years current powerful bike riding experience

full licence for 2 years.
Minimum rental period
* Minimum two day rental.
Kilometres
340km per day free then 70 cents per km. Kilometers are averaged for the duration of your trip.
Gear
Helmet, Jacket, Pants and Gloves included if required.
Our range is limited and size is subject to availability at time.
Clients are encouraged to bring your own gear if possible to guarantee comfort and fit
Booking Fee
10% at time of booking.
Balance due by credit card at the time of setting out.
Security Bond
We hold a photocopy of your eligible Credit Card.
You agree to pay for all damage up to the chosen Insurance Excess.
The insurance excess is $4500 reducible to $1500 (see options).