Rent brilliant new BMWs (or other top brand motorcycles) and explore this amazing Australian island at your leisure.
Your Options:
Click for more photos!
What our delighted international clients say about their Tasmanian Adventure
All of our clients are blown away by their motorcycling adventure in Tasmania.
Heide Niebuhr from Germany: "Hi Ian! now we are back (since 3 days) at the very cold Old Germany, but in my memory I have the winding roads of Tasmania." Hiedes German language website.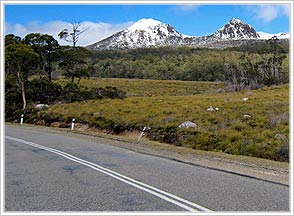 Stefan Beekman from The Netherlands had a motor biking/camping trip in Tasmania Christmas 2008 referred us to his great photo album.   Motorrijden in Tasmanië geeft je echt dat ultieme gevoel van vrijheid! Ruige natuur, goede wegen en weinig verkeer maken dit een geweldige bestemming voor een motorvakantie.  Er is voor iedereen wat wils: prachtige campings of luxe hotels. Tasmanië heeft bovendien een geweldige keuken, dus ook de inwendige mens komt niets te kort.
"The flora, the fauna, the landscape of Tasmania are interesting enough, but add in the world class motorbike roads and the friendliest people you'll ever meet and then you have a truly fantastic trip," said Steve B of Boulder, Colorado.
Eva and Sebastian from Germany
Webcam
Have a look at Hobart right now: Click here for Web Cam view of Hobart.
About Tasmania
Separated from mainland Australia by the 240 km stretch of Bass Strait, Tasmania is a land apart – a place of wild and beautiful landscapes; friendly, welcoming people; a pleasant, temperate climate; wonderful wine and food; a rich history; and a relaxed island lifestyle.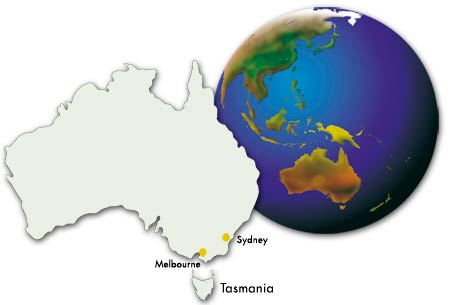 Getting Here
International visitors may find just the fare to get to Tasmania through Qantas International.
More information on Tasmania can be found at Tourism Tasmania.
Climate
Lately Tasmanian weather seems warmer and drier than it was years ago. Our climate is temperate, and generally mild.
We have some of the best possible weather for motorcycle touring.
Mid October to Mid April is Peak season in Tasmania. The weather is generally mild to warm.
Mid April to June is cooler, but generally a really great time for motorbiking with clear air, little rain and empty roads. You can have Tassie almost to yourself.
July and August are for the more heroic motorcyclist.
September till Mid October can be nice but a bit less predictable, the weather can be cold or mild, nice or snowy.
More information on Tasmania's climate click here